Hey Kids welcome to the store.
My name Steve Vincent, I've been writing and drawing comics as a pastime for about 20 years now. I started out in the late nineties with my book
 "Devilboy in the Land of Love"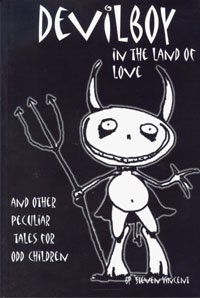 It was a book of funny kid oriented poems that focused on death and doom.
I followed that with a few more books, that I very unoriginally called "Odd Tales" and two books called "Fun ways to Kill Your Children" . I mostly sold them in parking lots at late nineties events like Warped Tour and Ozzfest, eventually getting a booth and selling them at the shows themselves. After the summers ended, my freind Mike and I would tour with  punk and metal bands selling the books and comics at dive bars and house shows all around the country.
There were 7 Odd Tales books in all, I dont have them anymore but if I reprint them Ill put them up on here. Here is a cover of the last one.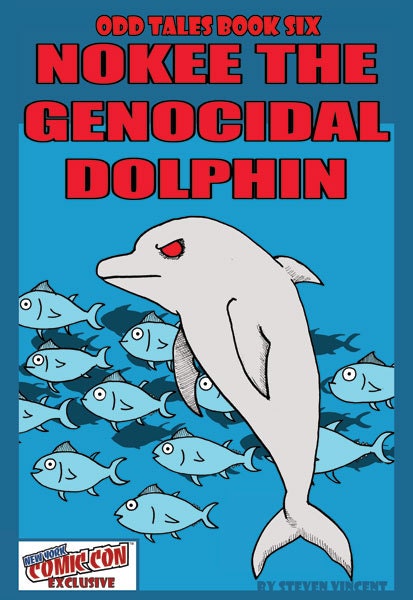 Eventually the books were picked up by all the major distributors and put in stores.  I decided to put out a comic book as well. I ended up putting out "Spaztic Colon" it was pretty bad and eventually the distributors and stores caught on to the awfiulness of th ecomic and stopped selling my books all together. The comic made it all the way to issue #3 before being cancelled.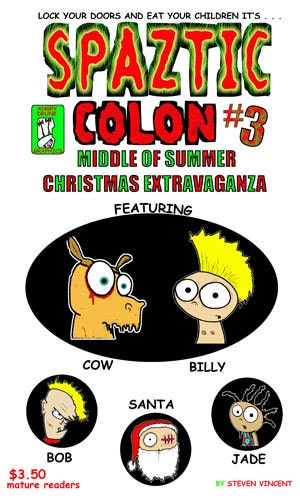 Even though the distributors gave me the boot (or went underbecause of Diamond ) some stores still ordered from me personally but it was hard filling all those seperate orders. I stopped selling in stores but I kept doing comic book and horror conventions, writing new books just for the events. I would save money on table by splitting it up with some awesome artists I knew. It worked out good, we mostly got along and we could share fans and beers.
Here's a flyer I made for the first NYCC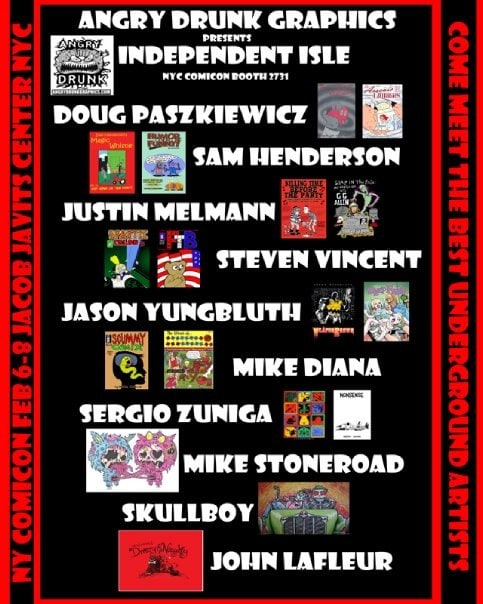 It was easier now because I had more time to work on the comics. It left me plenty of time to drink beer and go to shows. I released the Spaztic Colon mini comics and the FTB series as convention exclusives. Here are some cover photos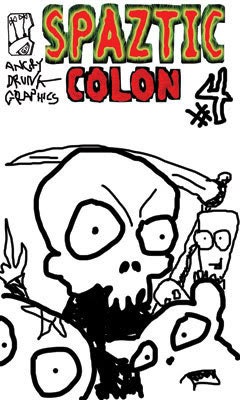 Spaztic Colon 4 is my favorite cover of any book, ever.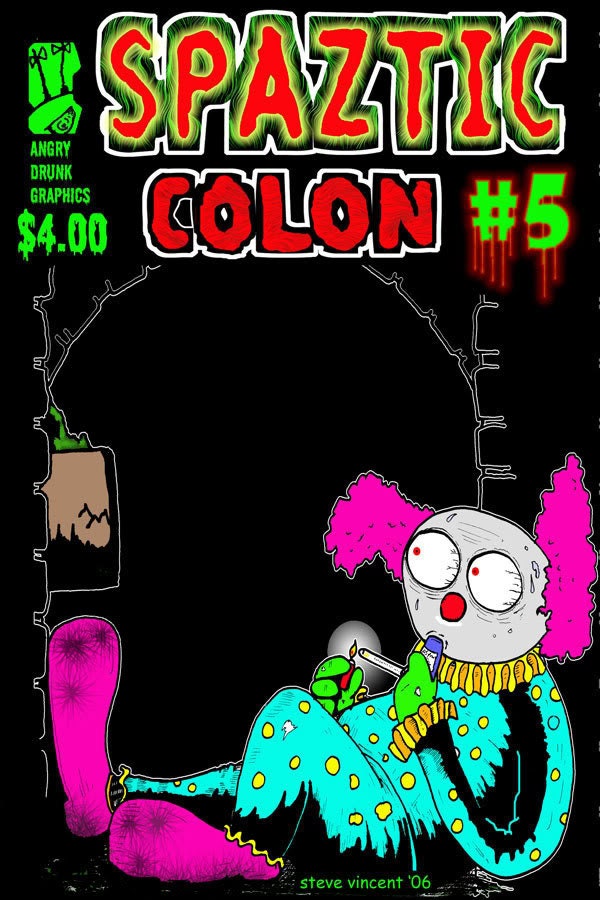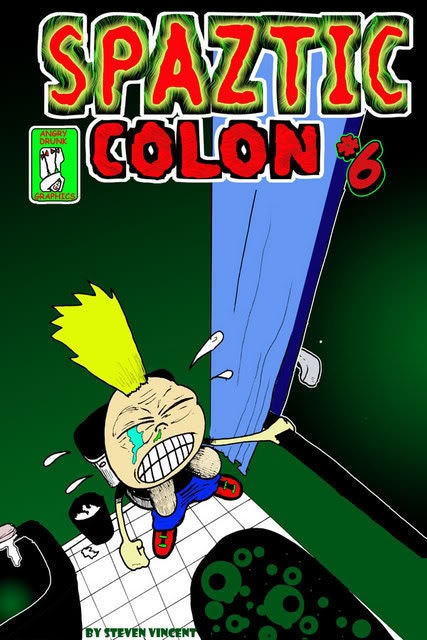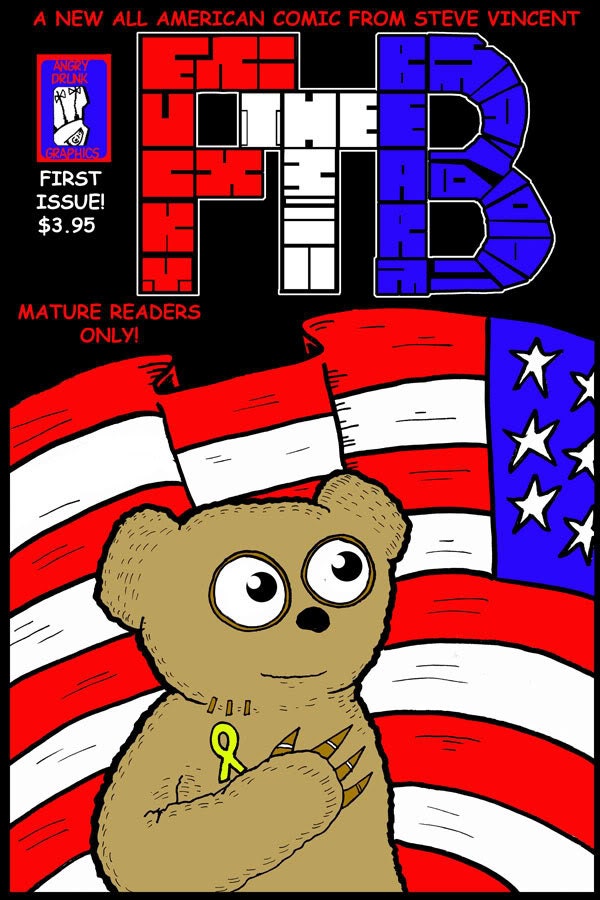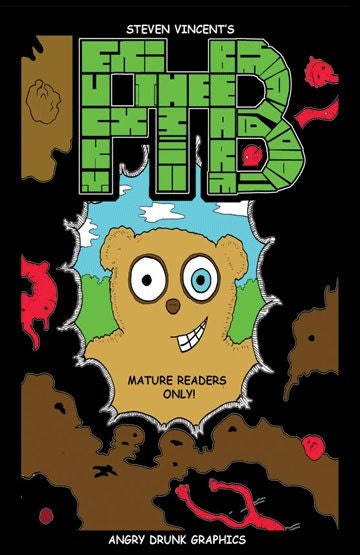 The people who liked my books would find me and get the newest issue. I didnt sell thousands of books but I got to meet a lot of cool people. 
Since most of the bands in the early 2000's weren't my cup of tea, I decided to invite some artists and bands and throw my own shows. 
 The first one was at the Stone Pony in Asbury Park in 2005.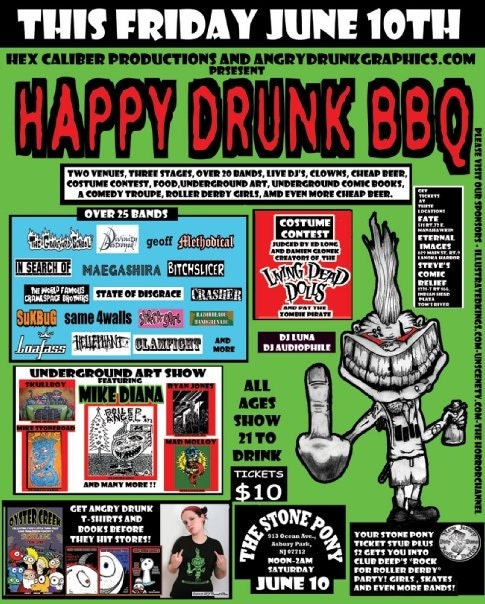 The Stone Pony was fun but they were all about the money (im not against making money, just not into "pay to play" bullshit), so we had all the following BBQs in a local park and everyone got in for FREE, they were BYOB events and they were a blast. 
That was the beginning of the Happy Drunk parties. Here be flyers-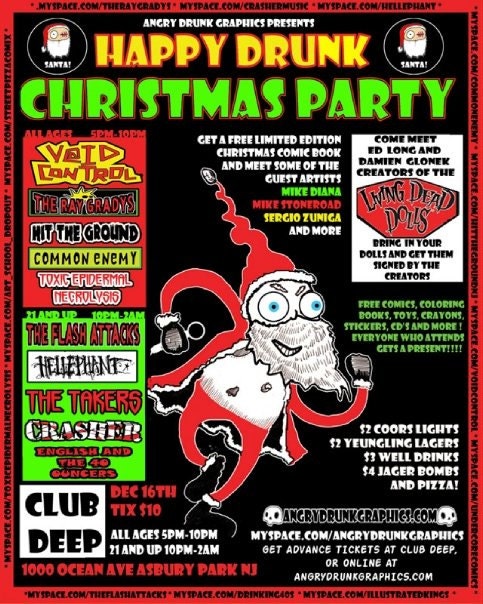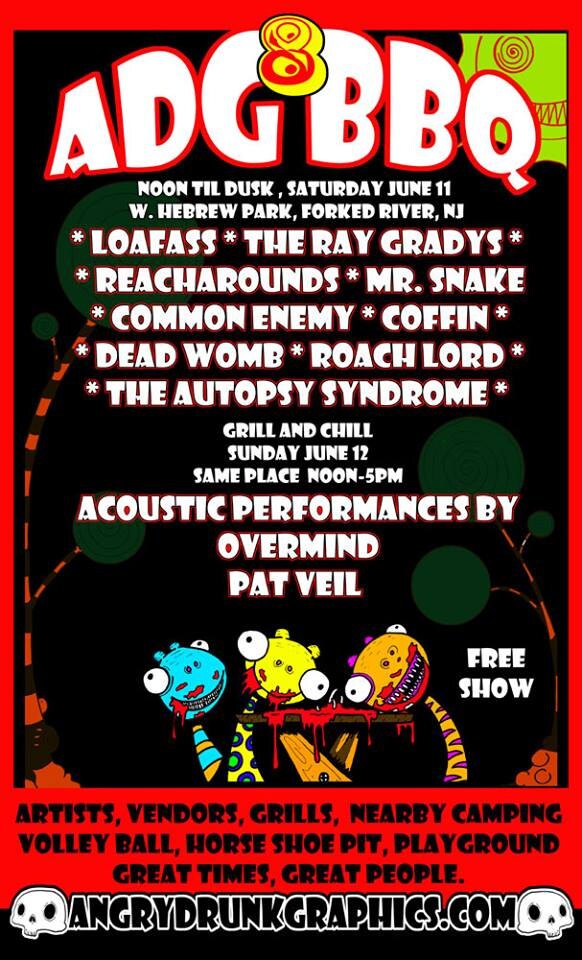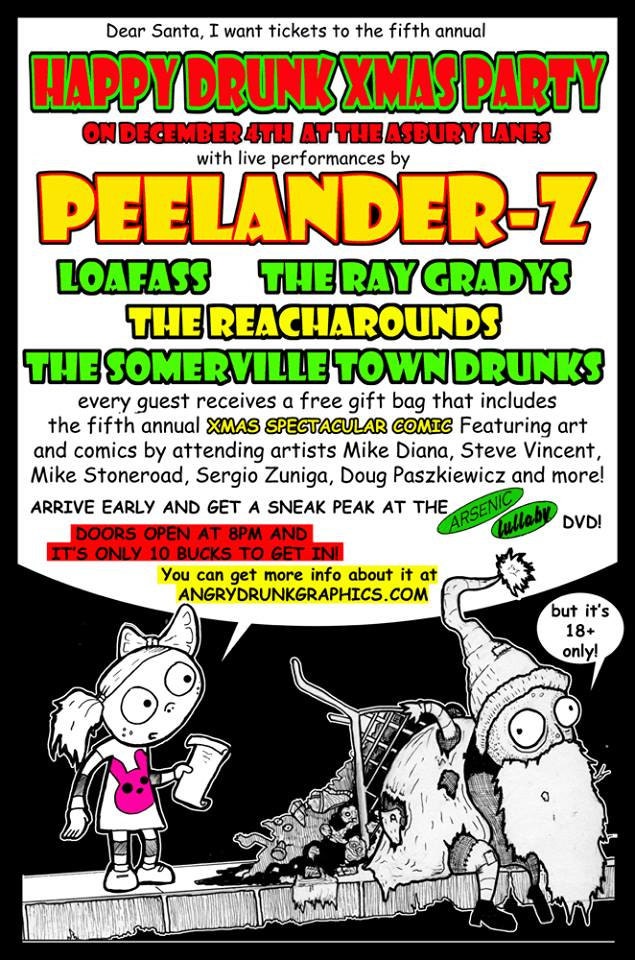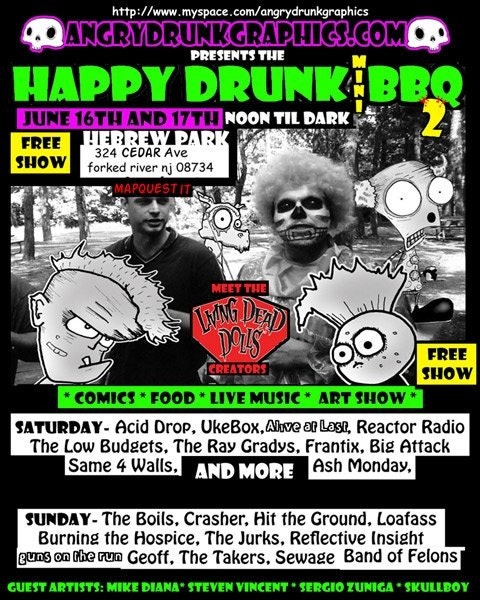 I started to release books twice a year, one of mine at the Happy Drunk BBQ in the summer and a comp book for the Xmas party with (mostly disturbing) holiday themed stories by some of my favorite artists. Here are some covers. If you got one of these you are lucky. I dont even have all of them.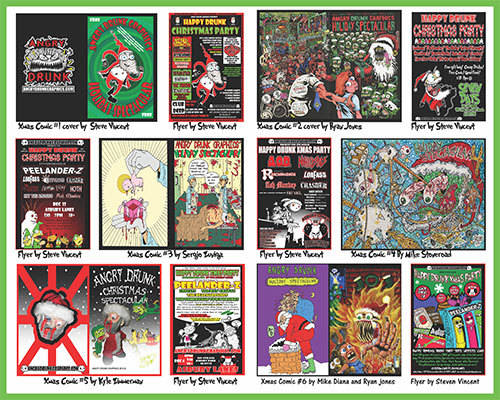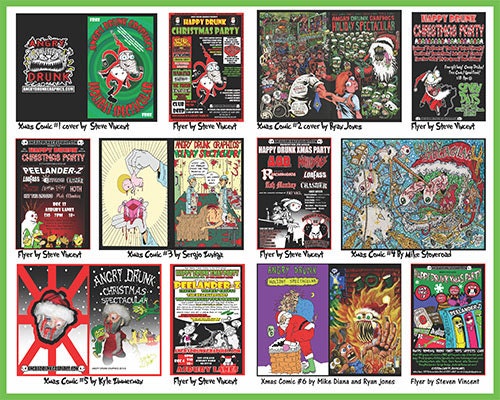 About 2007 I stopped doing comics and just threw parties, about 2010 I stopped the BBQ and in 2011 I had a kid. So I pretty much stopped everything for  while.
I still have the Xmas party but since the Asbury Lanes got shut down, I have it in a different venue each year. Unfortunately I cant do the free xmas comic any more, it takes way too much of my time and money. The parties are still fun and their are always gift bags filled with donated swag. 2017 might be in Philadelphia, keep checking the website to find out.
I just started drawing stuff again, mostly I just draw cute monsters. Apparently they are too cute for the Horror folks who liked my older stuff and too creepy for normal people who like cute stuff. Combine that with my mediocre art skills and you can figure how well thats going for me. 
Actually, it goes pretty good. I do art shows twice a year in Historic Smithville NJ and if I release books nowadays I do it there too, at my friends Mike and Lucy's vintage punk rock store. All the real punk and metal is vintage nowadays, cute right?  Anyway the store is called Underground and its in Smithville NJ, they sell my stuff and they rock.
I might start doing conventions again, and I have a new Spaztic Colon comic in the works. Thanks for reading this crap.
It was fun remembering.
-Steve